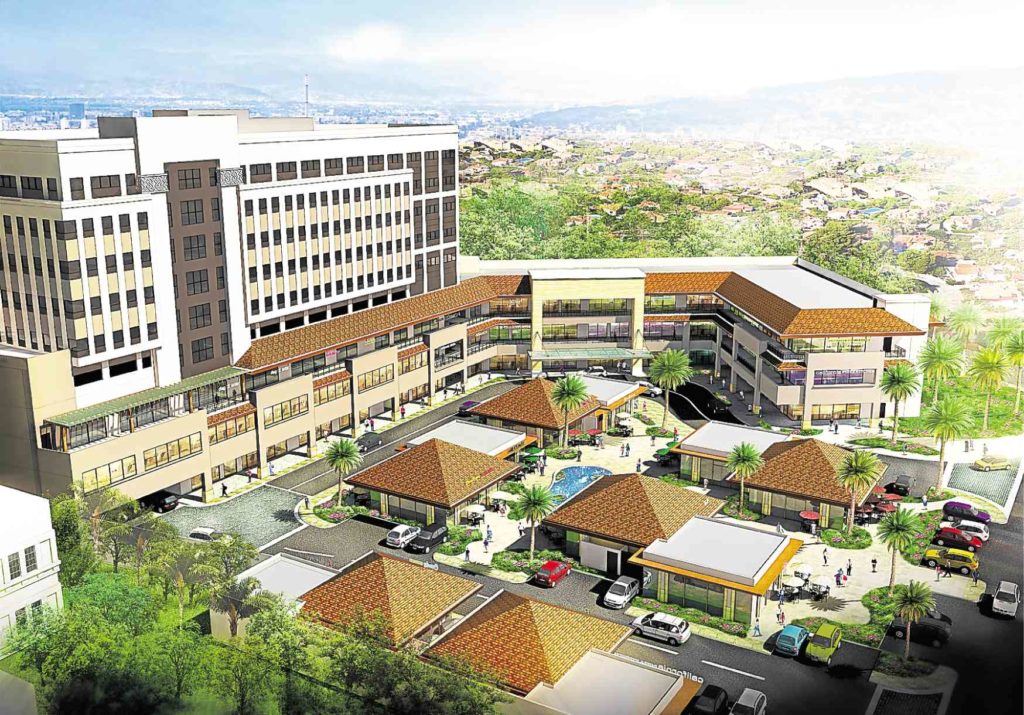 It was a bold move that could very well challenge the norm.
While many of today's real estate firms and businesses opt to set up offices within or near the established business districts in the metro, the publicly listed Rockwell Land Corp. has instead chosen a traditional "residential neighborhood" for its fourth venture in the local office property scene.
Diverse community
The 1.4-hectare Santolan Town Plaza, set to rise in the historic City of San Juan, is a premium quality community development that will offer some 10,000 sqm of leasable office spaces and another 10,000 sqm that will make up its planned one-stop-shop lifestyle center.
"It was a bold move. But we saw, even back then, that San Juan has a diverse community to whom we can cater. For one, there are a lot of businessmen who live nearby and we can offer them an alternative: that they would no longer need to go to the central business district (CBD) because their offices will already be within their community," explained Jesse Tan, AVP for office commercial development of Rockwell Land.
It should be noted that Rockwell Land's three other office projects are located within known office districts. Its first venture was the Rockwell Business Center Ortigas in Pasig, followed by 8 Rockwell in Makati, and soon, new office spaces will be made available at the Rockwell Business Center Sheridan in Mandaluyong City.
But the upscale property developer is optimistic, as it sees more reasons to believe that the Santolan Town Plaza will just as easily attract investors, major corporations, and start up companies to locate within this new retail and office complex.
Flexible office space
Tan said that San Juan, which is primarily a residential location, offers different features compared to the usual central business districts.
For one, the Santolan Town Plaza will rise at the heart of San Juan City, which is similarly located at the heart of Metro Manila. This would suggest better accessibility to different institutions, establishments, and other places of interest.
Rockwell's latest project will likewise offer flexible working spaces, thus enabling the firm to provide a different value proposition for its locators that can include traditional companies, start-ups, and even major corporations wanting to set up their shared services facilities.
Business process outsourcing (BPO) firms, he added, are also welcome to set up an office at the Santolan Town Plaza.
Tan explained that cuts as small as 170 sqm are made available for lease to cater to the start-ups and entrepreneurs who don't need huge spaces for their respective operations. They can, in the same manner, cater to the major corporations who will need bigger spaces such as one whole floor, which would be about 2,000 sqm.
Lifestyle center
Tan noted that the office component at Santolan Town Plaza will be further complemented by a one-stop-shop center that will bring that famed, distinct Rockwell lifestyle to this part of the metro.
Some 10,000 sqm of retail space are expected to be filled by a carefully curated selection of restaurants, cafés, service establishments, grocery, and cinemas, among others. A koi pond will complement the retail pavilions, while an indoor playground will also be built, along with a roof deck that will feature an events hall.
Tan said they expect to open to the public portions of the retail component of Santolan Town Plaza by yearend.
By then, this area in San Juan is envisioned to become the ideal neighborhood spot, where everyday indulgences and lifestyle conveniences come together in a single destination.
Core strengths
Of course, the clincher would be the fact that Santolan Town Plaza is being built by Rockwell Land, known largely for creating landmark communities, with each development being in a league of its own.
"I believe our core strength includes the fact that one, we conduct regular interaction with our tenants to get their views and feedback. And second, Rockwell's core way of thinking places a huge importance on the upkeep and maintenance of its buildings. It is important for us to manage our buildings well because if you don't, you will only erode the brand," Tan explained.
Add to that is the kind of security that Rockwell provides in its developments as well as the level of customer service it offers to ensure that it is not shortchanging its clients.
Indeed, this premium community development is set to become a game changer that will enable Rockwell Land to again capture a considerable share of the highly lucrative opportunities in the office property market.
This article is originally seen at https://business.inquirer.net/234967/plaza-rock-san-juan#ixzz56JQDhLUo