Beginning May 19, Rockwell's Power Plant Mall, The Grove Retail Row and Arton Strip will be reopening their doors. Santolan Town Plaza, meanwhile, will be reopening on May 21. To ensure the safety of their customers and employees, these malls will be adopting heightened health protocols.
Rockwell malls will be adopting new operating hours of 11 a.m. to 6 p.m. until May 31. A list of shops will be operational upon the reopening of Power Plant Mall and Santolan Town Plaza can be viewed through their websites.
Upon reopening, Rockwell malls will be implementing a "no mask and ID, no entry" policy. Customers are required to wear face masks and present a valid work, school or government-issued ID upon entry.
Thermal scans will also be conducted before entry, and customers with temperatures higher than 37.5°C will be given another scan after five minutes. If the reading remains above 37.5°C, customers will not be allowed to enter mall premises.
Aside from temperature and identification checks, customers are required to use hand sanitizer and the sanitizing footbath mat before entering the mall. The use of hand sanitizer is also required before entering any store.
Minors, senior citizens, pregnant women and PWDs will only be allowed entry for purchasing essential goods or for a visit to the mall's medical centers.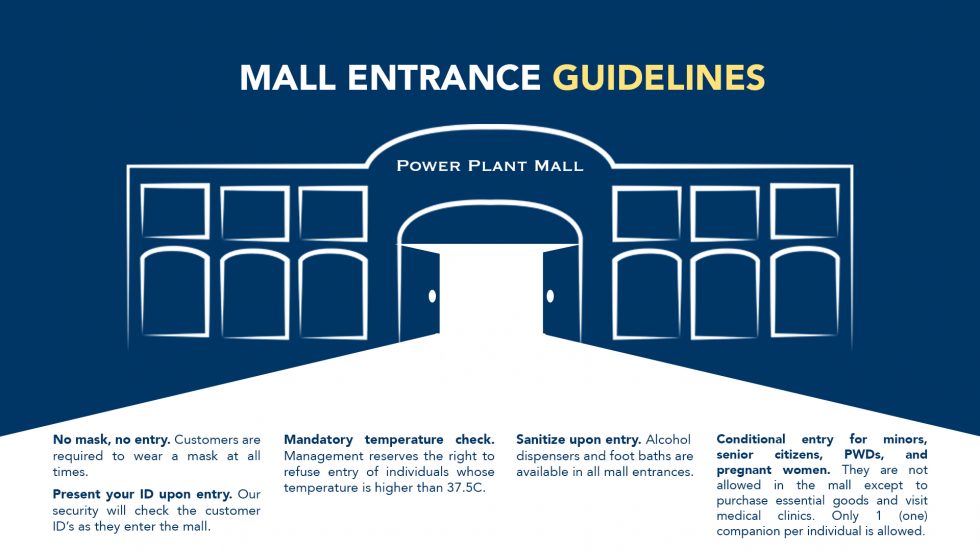 To ensure that social distancing measures are being followed, malls will be limiting the number of people on escalators and elevators. For Power Plant Mall elevators, only two customers with one cart or four customers with no carts will be allowed to enter.
Elevators at The Grove Retail Row and Arton Strip will be allowing one customer with one cart or two customers with no cards to enter, while elevators in Santolan Town Plaza will only be allowing two customers at a time. Customers are also advised to stay six steps apart during escalator rides.
Escalators and elevators in these establishments will be equipped with anti-bacterial diffusers and handrail sterilizers.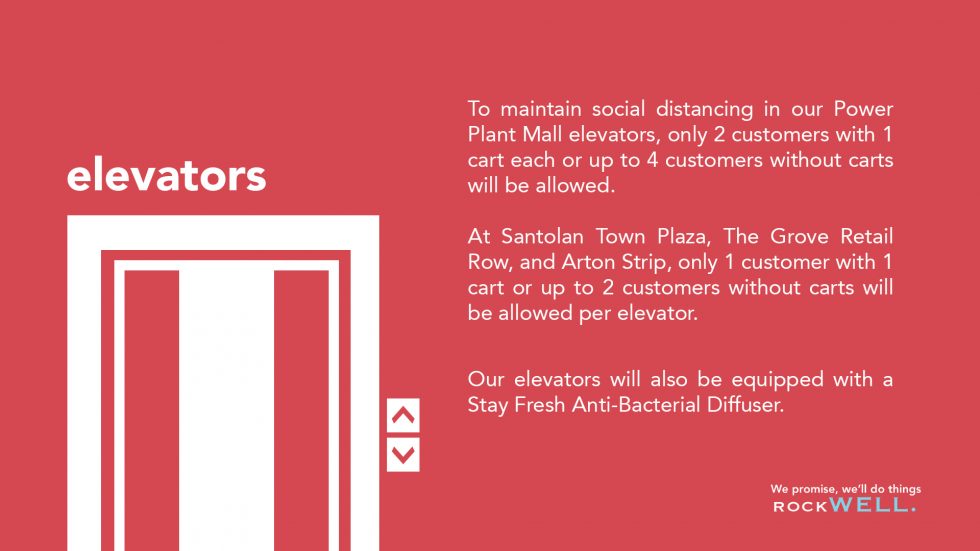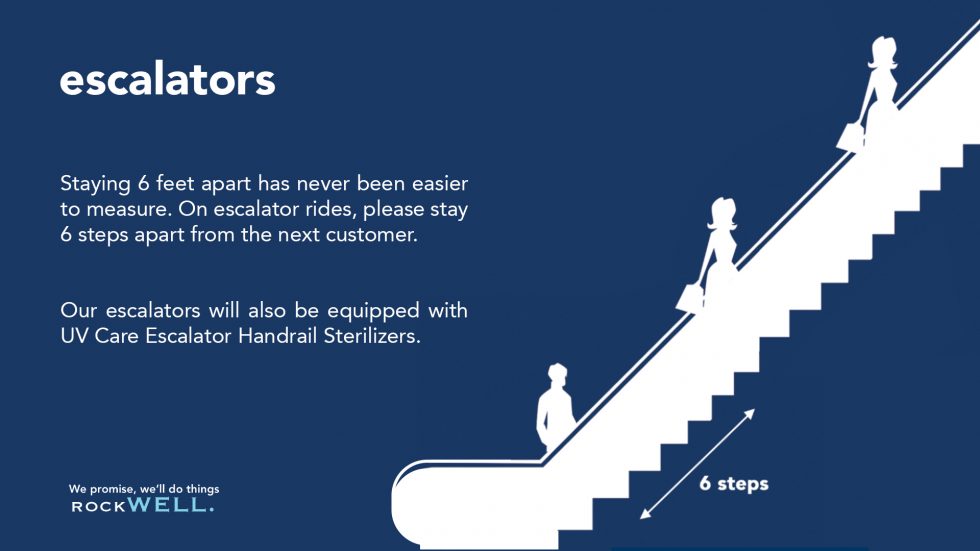 Restrooms will also be limiting the entry of customers. Four customers are allowed to enter restrooms in Power Plant Mall, and one customer in The Grove Retail Row restroom.
Floor markers will be installed to maintain social distancing measures, and mall security will be positioned near restrooms, elevators and escalators to ensure that these protocols are being followed.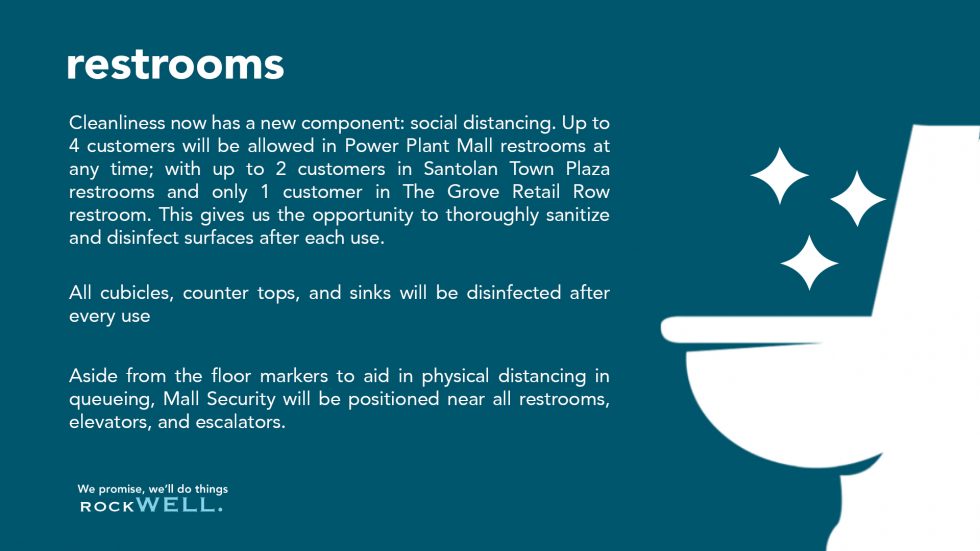 Additionally, frequently touched surfaces will be disinfected every 15 minutes using US Environmental Protection Agency-certified disinfectants and sterilizers. High-traffic areas will be installed with UV air sterilizers and surface disinfectants.
On May 20, a drive-by pickup service will be made available for customers of Power Plant Mall to help minimize exposure for customers and store representatives. Rockwell In & Out allows customers to place orders through any store or restaurant at the mall, settle payment in advance, and pick up their orders through a centralized area in the P1 Level Car Park.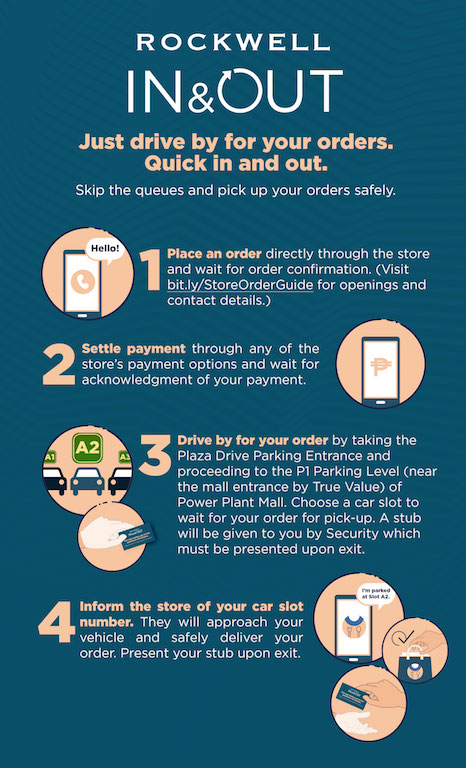 At the car park, customers can choose a car slot, inform the store about the slot number and wait for the store representative to safely hand over their order. Customers may also book a courier service to pick up their orders, provided that they are directed to the Rockwell In & Out area.
Source: https://nolisoli.ph/80450/rockwell-malls-reopening-safety-measures-bn-asuacillo-20200516/?utm_medium=Social&utm_source=Facebook&fbclid=IwAR0Auq32vOX7RoSZI1hjJjnWNci3LvvJA-k1-c5Z0U2gXFQF_ImJ9r7CP1s#Echobox=1589628405